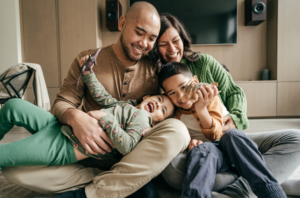 CYN provides family preservation support to families at-risk for child abuse, as well as counseling to families in crisis, post adoption and children with sexual behavior problems. These families are referred to CYN by the Illinois Department of Children and Family Services.
CYN's Intact Family Services Program strengthens families, by providing in-home services designed to prevent children from entering the foster care system. This program monitors family interactions, provides linkages to community resources, and provides information regarding child development/age appropriate behavior and discipline as well as general case management services. Emphasis is on preventing child abuse and neglect and keeping the family together.
At the beginning, I didn't want to work with *CYN Support Person*. I felt like I didn't need his services, nor did I want them. He always found ways to connect with me and kept communicating with me to loosen things up between us. He made it impossible for me to want to give him a hard time or make his job hard. He was patient with me and just gave me the time I needed to accomplish the things recommended. Everything worked for me and my life sober is so much better. Getting sober may have saved my life or even someone else's. *CYN Support Person* was a big part of my success. He was very involved with our kids, they even looked forward to him coming. I really hope he knows how big a difference he is making.
Services Offered
Case Management—monitor families weekly to ensure that the families are provided and linked with needed services.
Substances Abuse Treatment Programs— Referrals for both inpatient and outpatient drug treatment programs.
Counseling—Program provides weekly counseling for adults, children, couples and families both in home and out-of-home.
Community Referrals —Families are referred to a number of community-based services, including: medical services, counseling, drug/alcohol treatment support groups, food pantries, housing, employment training and continuing education programs.
AND MORE